Our story
About MediYoga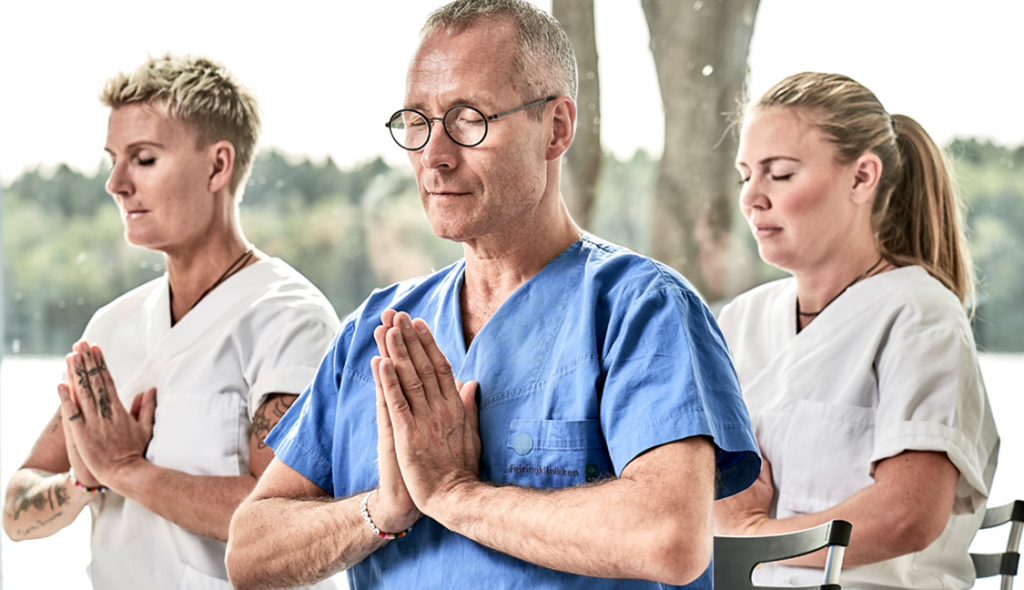 MediYoga, medicine and yoga. A match made in heaven!
An example of how MediYoga works in practice is that high blood pressure can be quickly lowered with the help of many types of modern medications. They treat the symptoms but not the cause, and without medication the symptoms come back. This is where MediYoga comes in as a holistic technique that balances physical, mental and emotional aspects to get to the root cause of the problem. Medication provides acute help in lowering blood pressure but with regular MediYoga (at least three times a week) the causes can be reduced or entirely disappear so that blood pressure levels return to normal and medications can be phased out.
MediYoga is a combination of the disciplines of medicine and yoga and aims to be a bridge between the two. Stress and mental health problems are rising. On a daily basis we see alarming reports on how the mental health of young people is quickly deteriorating. Modern medicine provides excellent emergency treatment, which means that more and more people are surviving serious diseases. But there is a lack of knowledge and techniques to handle the increase in lifestyle-related diseases such as burnout syndrome, which has increased by 600% over the past decade. We are hearing more and more about integrative medicine around the world. The World Health Organization (WHO) has for many years been urging member states to focus on a more holistic approach.
MediYoga is a medical and therapeutic yoga method based on clinical practice and research. MediYoga can be done lying down, while seated, slowly, actively, briefly or for a long period, depending on which program is chosen. MediYoga is essentially suitable for everyone who wants to feel better, whatever their situation at the start. If you can breathe, you can do MediYoga.
MediYoga is yoga according to a recipe with five different ingredients: breathing, physical exercise, hand positions, focus and mantra.
To achieve both a mental and physical change it is more important to pause for a moment of yoga every day than to have a two-hour yoga class every Sunday. This has been proven by both research and experience.
Since we have different physical and mental challenges, the best approach can be to find a program that is just right for you. You will find many MediYoga programs of different lengths and levels of difficulty at MediYoga Play or find an in-person instructor class near you.
MediYoga Play MediYoga close o you
About yoga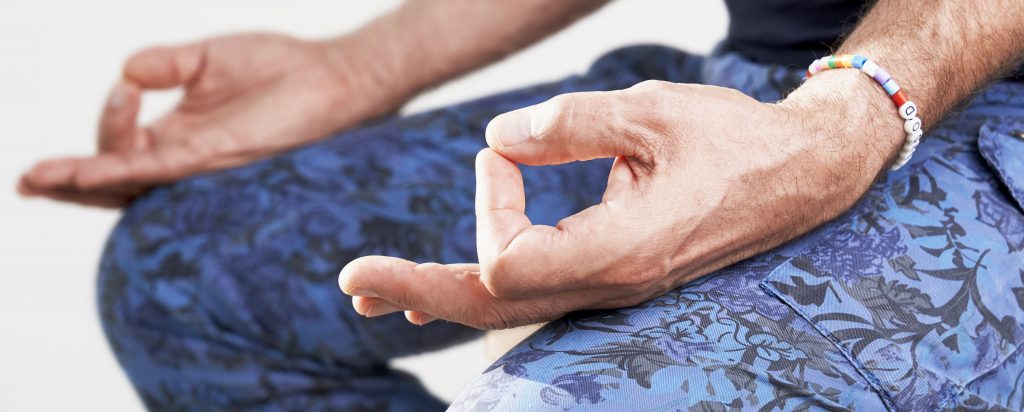 Yoga has existed for at least 5,000 years and is one of the few feel-good techniques known to man. George Feuerstein (1947-2012) was a top yoga historian and his belief was that yoga has been practiced for at least 25,000 years. The International Yoga Federation (IYF) believes there are more than 435 million people practicing yoga today, making yoga the most practiced life philosophy in the world.
Yoga is a holistic discipline that is neither religious nor political, and which, over thousands of years, has been adapted to the prevailing culture and time. From having been a spiritual path to self-knowledge, yoga is more often seen in the West as a form of exercise, even though the physical aspect is only a small part of the whole philosophical system, which covers life from before we are born until we take our last breath, and everything in between.
Applying 1,000 year-old knowledge and combining it with modern medicine is a means of using yoga as a therapeutic technique. The International Association of Yoga Therapists (IAYT) is the world's largest yoga therapy organization. We are of course members and have also served on the Advisory Board. IAYT's mission is to coordinate yoga therapy and create quality indexes in the same way as the Yoga Alliance is doing for non-therapeutic yoga.
Narendra Modi, the Prime Minister of India, proposed having a designated yoga day and in 2014 the UN General Assembly approved International Yoga Day, which is now on 21 June every year to coincide with the summer solstice.
Yoga as therapy is growing exponentially all around the world and MediYoga is one of the most successful leaders in the field."
In times of change, learners inherit the earth,while the learned find themselves beautifully equipped to deal with a world that no longer exists. Eric Hoffer
The history of the MediYoga method began in 1998 when a yoga teacher was teaching yoga at Sweden's first scientific medical study of yoga for chronic back pain at Karolinska Institutet in Stockholm. During the course of the study what would become Startpacket 3 was created. Almost 10 years later, in 2007, Elisabeth Engqvist wre having lunch with that yoga teacher, Göran Boll, talking about not turning yoga instructors into yoga therapists, but instead make yoga instructors of medical personnel. That day started what would prove to be a very successful partnership.
It was initially called just Medicinsk Yoga (Medical Yoga), but as success arrived, other actors also started to offer medical yoga and it was time to protect the concept under a registered trademark and in 2010 the name changed to MediYoga.
Because of its cost-effective and beneficial effects, good safety record, and over a decade of evidence-based Swedish research, MediYoga is becoming increasingly popular worldwide. It has been integrated into clinical treatment programs at more than 350 hospitals and other healthcare facilities throughout Scandinavia.
The big breakthrough came in 2011 when cardiac nurse Maria Wahlström (then Nilsson) conducted a published study of MediYoga and its positive effects on heart attack patients at Danderyd Hospital in Stockholm.
Important ingredients in our success are our focus on healthcare and our research-based marketing.
Without Elisabeth and Göran´s partnership, MediYoga would not exist today.
And the journey continues …
Sustainable development requires human ingenuity. People are the most important resource.
Dan Shechtman
In 2016 the collaboration between MediYoga International and MediYoga Sweden ended when Göran left MediYoga and sold his company MediYoga Sweden. Today they are two entirely separate companies with distinct structures, content and visions.
About the company
MediYoga is more than a yoga method and a company; it is a way of life, a passion for life and a powerful technique for self-development, better physical and mental health and all that helps us feel good along the life's journey.
In 2003 Elisabeth Engqvist decided to try yoga as rehabilitation after experiencing serious burnout. It was a life-changing decision in which both Elisabeth and her husband Anders left their managerial positions in the business world to instead take extensive yoga instructor courses. In 2005 they started what would become MediYoga International AB.
In 2009 they decided to join up with IMY (institute for medical yoga) in Stockholm to focus on therapeutic yoga, and this is how what is now MediYoga was created as a yoga method, brand and company. We were responsible for developing MediYoga in all countries outside Sweden, which IMY would be responsible for. And the success continued. 44 people registered to participate in our first Nordic MediYoga instructor course in Oslo in 2009.
"We want to offer MediYoga courses that reflect our love of working with yoga as a way to make the world a little kinder". Anders and Elisabeth
In 2015 we started working with Helen Miller Lynch who has established MediYoga in California where it is now offered at six clinics and hospitals. A couple of years later the first MediYoga course was launched in Denmark
Today our brand is registered in 14 countries. We have MediYoga courses in Norway, Denmark and California, USA. We also have an English language international course in Copenhagen and workshops in Prague, Czech Republic and Genoa, Italy. We offer MediYoga Play, a digital MediYoga services online and an app. We are aiming to start MediYoga courses in Finland, and who knows what else will happen along our journey. We are going with the flow, and with our invaluable, wonderful partners, we are continuing to develop MediYoga around the world
The founders are wife and husband team Elisabeth Engqvist and Anders Engqvist. Both have many years of experience in leadership positions in marketing and sales. In 2005 they turned their full attention to yoga and neither of them has looked back. Their work today has become a lifestyle – a way of life.
They live outside Stockholm in a small house that is painted red and have an adult daughter and a miniature poodle.