MediYoga research
Scientific studies show that MediYoga classes provide positive effects in healthcare.
Several scientific studies show that yoga programs created by MediYoga can help heart patients in their rehabilitation and can have positive effects on stress, high blood pressure and back pain.
We have been researching the MediYoga method since 1999 and we want to inspire, support and participate in scientific research into yoga, and to spread the word in society. MediYoga is used today as a supplemental treatment in the healthcare systems in Norway, UK, Denmark, Finland, Sweden, Spain and New Zealand. 
We conducted the first MediYoga study in 1999 with Karolinska Institutet, focusing on chronic back pain. Since 2007 research has been taking place at Danderyd Hospital in Stockholm, Sweden, on how to use programs created by MediYoga for patients with heart problems or who have had a stroke. As a result, Danderyd Hospital is now using MediYoga exercises as an established component of the rehabilitation regimen for its heart patients.
Karolinska Institute in Sweden is also continuing its research on the MediYoga method. Danderyd Hospital and Karolinska University Hospital in Stockholm are conducting two of the world's most comprehensive studies of heart failure and atrial fibrillation and how MediYoga can have a positive effect.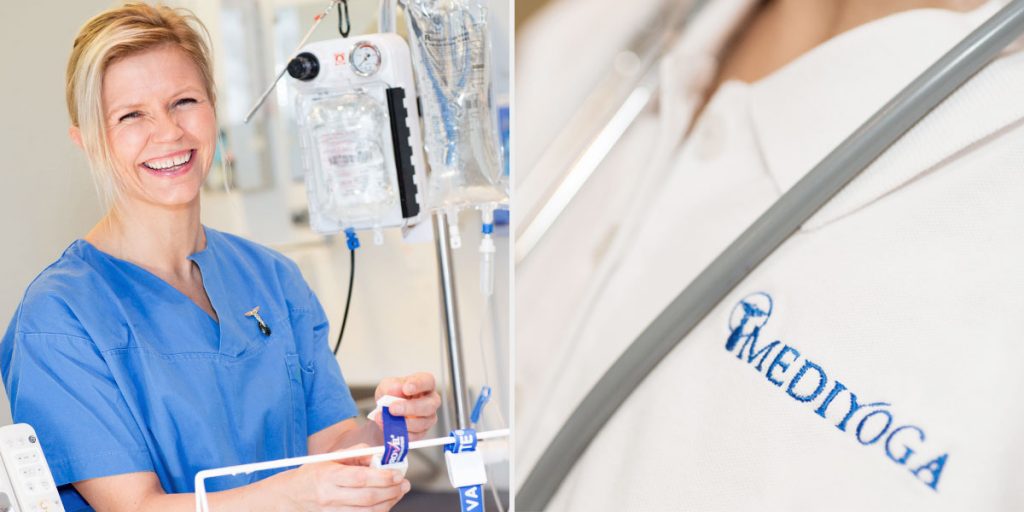 Read more about research into MediYoga programs.
You can download summaries, or whole reports where these are available, in pdf format.
Published studies of MediYoga practice and its effects:

There are also two unpublished studies:
A heart study conducted in Denmark in 2016 by Marie Gershagen, physician and MediYoga therapist
EA heart study conducted in Bakersfield, California in 2017 by Helen Miller Lynch, Education Director for MediYoga in the USA.
Are you curious about research and yoga? In the PubMed database (National Library of Medicine, Bethesda, Maryland, USA) there are thousands of reports from research all around the world which, in various ways and in different contexts, show the measurable effects of yoga and meditation.
[icon name="external-link" class="" unprefixed_class=""] Link to PubMed
(Type, for example, brain+yoga, or ADHD+yoga.)
MediYoga in the USA
The MediYoga method is used today as a supplemental treatment in Kern County, California in areas such as cancer, heart problems, senior care, PTSC and juvenile detention.
400 MediYoga classes
From Autumn 2019 until 30 June 2020 Team MediYoga USA is providing 400 classes free of charge around Kern County to show people how to improve mental health and anxiety using MediYoga as one of the techniques. Each participant fills out a questionnaire with information about their physical health and their experience in their first class. They then fill out another questionnaire after the final class. The classes are 75 minutes long and are offered once a week for eight weeks. The next course will start in January.  There is no need to register. Just come and join in, even if the course has already started. Welcome!
You will find an updated schedule with locations and times at the Kern Behavioral Health & Recovery Services website.
For more information on MediYoga, contact us directly.